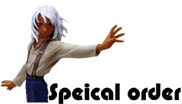 The special order, pre-order and back order are only good for customer who has credit card info in our files. If you order by special order, pre-order or back order and we don't have your credit card on file. The order won't be processed and will be void. You may feel free to contact us if you need to know you are qualified.
Back Order
In order to serve you better, all back order will be processed within 3 weeks from the date you order. If the back order items are discontinued or canít be in stock within 3 weeks, the back order will be canceled automatically.
Pre - Order
All pre-order items have special discount. Pre-order only available in certain items. All pre-order need to order in priority time. You need to place order before offer due date. If you place your order AFTER due date, the special discount price will NOT apply to your order.
Processing & shipping lead time: All pre-order items will be shipped 5 - 7 business days after the pre-order available date as shown on the web.
The items are available in:
Special Order
There are special prices on all special order items.
Processing & shipping lead time: All special orders will take 7 to 10 business day to process and ship.
| Home | Order Info | Shipping Info | Back - Special Order | Return Policy |